Brihaspati Puja
Planet Jupiter present in the solar system is the representative of Lord Brihaspati who is the Priest of Gods. Thursday is devoted to Jupiter and one can worship lord Brihaspati or perform Brihaspati Puja. Lord Shiva blessed lord Brihaspati with place in the solar system, when Brihaspati as a sage appeased him. Jupiter is one mighty planet of solar system after sun and its position in astrology and horoscope of an individual can make or break one's life. Jupiter astrologically signifies prosperity, knowledge, partnerships and children. Guru or Brihaspati Puja is dedicated to the Jupiter planet and is performed by chanting Guru mantra facing north-east direction.
According to ancient Vedic astrology, the planet Jupiter is recalled as Guru, Devaguru or Brihaspati. Jupiter planet is benefice as well as considered to be one of the most auspicious, generous, helpful planets to name. Also planet guru or Brihaspati represents wisdom, sacred scripture, philosophy and benevolence. The nature of Brihaspati is also known to be watery.
It is been said that planet Jupiter is an indicator of good luck, wealth, devotion, fortune, fame, morality, spirituality, magistrates, ministers, lawyers, children as well as government or religious leaders. The adversities of Jupiter that is Brihaspati or Guru can also be reasons for troubles, skin problems, impurity of the blood, frail nerves, increase of sexual urges, arthritis as well as worrying and uneasiness of mind.
'Aum Hreem Kleem Hoom Brihaspataye Namah'
Anyone can be on fast on Thursday to worship Lord Vishnu. If observing Brihaspati vrat avoid consumption of banana and salt on the day of fast.
The following are the best Brihaspati Graha Remedies besides general remedies in accordance to Vamtantra:
Powerised Herbs Poojan of the Brihaspati Graham.
Brihaspati Graha Shanti Puja.
Powerised Suraksha Kavach Dharanam of the Brihaspati Graham.
Powerised Siddha Yantra Puja of the Brihaspati Graha.
Powerised Spiritual Art of the Brihaspati Graha that is to be kept.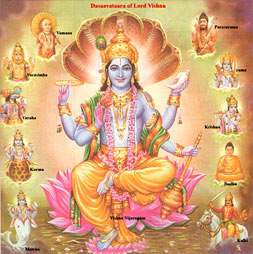 About Lord Vishnu Incarnation
Meaning of the word Vishnu is the provider or the giver. In the Hindu mythology, Lord Vishnu is regarded as the dharma upholder and preserver of life.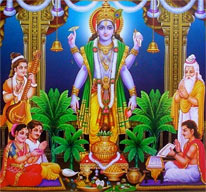 Meaning & Significance of Brihaspati Puja
In Hinduism, all seven days of a week is entitled and dedicated to a particular God in the Hindu religious beliefs. Brihaspatiwar means Thursday (also called Gurubar) and the day is dedicated to Lord Vishnu and Brihaspati, the Guru of Devas. Yellow is the color of the day.Read more»